Yesterday, we had an insightful visit with my regular neurologist following our unexpected hospital stay earlier this week. But before getting into that, we want to express how much your concern and support blessed both of us after the hospital update! We received so many messages, texts, and comments, reminding us that we still have an army of godly friends and family who are lifting us up in prayer daily…and that means the world to us! I also firmly believe it has made all the difference in the speed and success of my recovery up to this point (friendly reminder – back in February my projected "fully able to walk" month was September!). So thank you all for staying with us and striving on our behalf, even in unexpected twists and turns! Also, special shout-out to my mom who had planned to come back down Monday to move my sister out of CBU, but instead jumped right into the hospital scenario, stayed with us to help stabilize things for a couple of days, and still moved my sister out of her dorm on time – in spite of  being sick on top of everything. Thanks, Mom!
And now onto the crucial neuro details. As you may (but I hope may not) have experienced, neurology is an incredibly overbooked and difficult-to-penetrate specialty. So difficult, in fact, that even with a hospitalization and TIA diagnosis, the best they could do for us was schedule a phone consultation for yesterday morning. Neither Ivan nor I felt like a 5-7 minute phone call was going to be thorough enough to come up with a good treatment plan after my unexpected downturn, so we were struck with a crazy idea. Obviously, my neurologist had reserved time to call us…so what if we just showed up at his office at that time and asked to talk with him in person?? Not likely we would make it past the front desk, but still worth a try.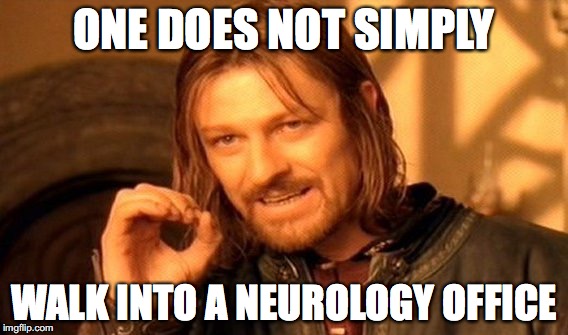 So that is exactly what we did. In spite of all the odds, skeptical nurses,  and the fact that he was completely booked for the day, our neurologist not only saw us, but gave me a full exam and spent time reviewing my brain and artery scans from Monday and Tuesday. What an answer to prayer – and a nice doctor! Here's what he came up with:
1) He generally agreed with the TIA diagnosis at the hospital, and upped my blood thinner dosage in order to prevent any future TIA/stroke events.
2) On the other hand, he also mentioned that TIAs and partial-onset seizures share some similar symptoms. I've been on a low-dose seizure medication trial for a month because my March EEG came back as somewhat abnormal, and because he suspected that some of my TBI "anxiety episodes" might actually be seizure activity. Given this background, and because I continue to have "episodes" on a fairly regular basis outside of the extreme symptoms on Monday, he decided to increase this medication as well. This will insure he is better addressing my more regular difficulties, even though the Monday episode was still most likely a TIA.
Moving forward, we'll take another month to see how my body responds to both these medication changes, then meet back again in early July to decide on the most effective treatment plan to stick with. Ivan and I are curious to figure out what that will end up looking like…but in the meantime, we're very thankful for a kind and thorough doctor, and for a new medication plan that we hope will keep life safer and more normal!